You've seen in our last piece that thankfully, the ancient art of silk printing is on the upswing again in Central Asia. Today we'll be showing you that there are even more reasons to celebrate on this front, as one of its sister traditions is also gaining ground in the rich tapestry of the art and design worlds, both in Central Asia and far beyond. Welcome to the ancient art of ikat.
Photo by  2008+
So what is ikat?
The technique, rather wonderfully, is known as abrabandi in Uzbek, meaning "bound cloud", and here's why: ikat is a woven fabric that is made with hand-spun silk yarn, using a resist dye process where the warp yarns (vertical threads) are bound and dyed by hand before they are woven with the weft yarns (horizontal threads).
 How old is it and where does it come from?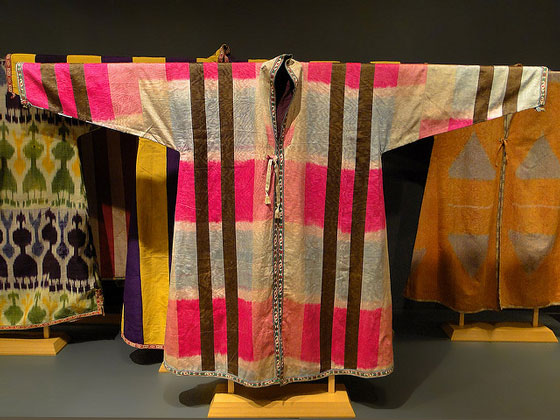 Photo by   Mala C
Ikat's wefty Uzbek roots stretch back all the way to 12th century Fergana valley. Unlike silk printing, it was almost entirely the work of men. Entire teams of specialized craftsmen worked on the various stages of the ikat-making process. As with silk printing, the tradition was refined and passed down through many generations. However, ikat was held in much higher esteem: robes fashioned from the material were bequeathed to their wearers as a sign of royal commendation in Central Asian courts. The custom flourished right up till the harsh winter of the Soviet era, when the art inevitably had to go underground to survive, only to spring back when the seasons of history turned again.
Where is it made today?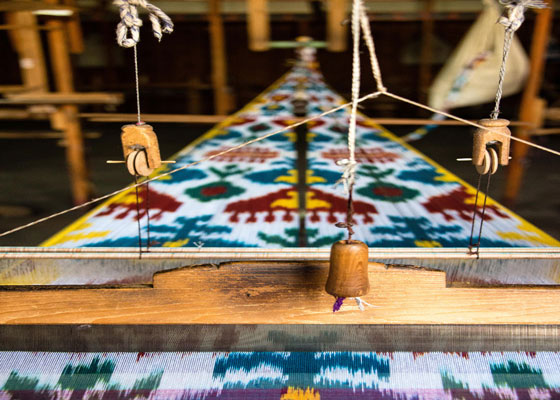 Ikat's current Uzbek home is the rather unassuming-looking Yodgorlik factory, little more than a sprinkling of sheds and outhouses in the city of Margilan in the Fergana Valley. Excitingly, visitors are allowed on the premises, so if you'd like to change gear and take part in an educational tour of the factory to witness the weaving of wonders from cocoon to cloth on your Central Asia Rally, you can make arrangements to do so.
The artisans – you can't really refer to them simply as workers – become masters of their craft over many years, to produce silk ikat that will be sold all over the world, including to fashion designers — Yodgorlik wove silk ikat for Gucci's Spring Summer 2010 collection.
What does the future hold for ikat?
As you might imagine, the continued revival of Uzbek textiles in the world of high fashion is all the more assured because, in addition to the almost hypnotic draw of the sheer quality of workmanship that goes into the making of these music-for-the-eyes fabrics, the ever-growing trend for all things green, sustainable and ethical near-guarantees it. Just as the Silk Road once fostered cultural cross-pollination, the dyed-in-the yarn DNA of ikat deftly threads past and present together in a sumptuous tapestry that transcends time in fashion houses worldwide.

Where can I get it?
Uzbek ikat is now available through your usual major online and offline retailers. But – and you knew there was a but coming -, just like in ancient times, it resolutely remains a luxury item, as the care and attention that goes into making each individual piece demands so. Having said that, if you do decide to go ahead and invest in a piece, you'll be getting nothing less than a gloriously radiant piece of living tradition. And what price do you put on that?
Whether you take the plunge now or in a while, remember that the birthplace and origin of the glowingly beautiful colors and patterns in ikat, somewhat inevitably, is no less resplendent in the same jaw-dropping splendor. Come and see for yourself on your Central Asia Rally.