Driving across Uzbekistan along the ancient Silk Road, following the tracks of caravans and merchants of old times, we will tackle several cities full of history, architecture, mystery and adventure. Join us on an epic trip through the centuries into another era to the cities of Uzbekistan!
Photo by Robert Wilson
Samarkand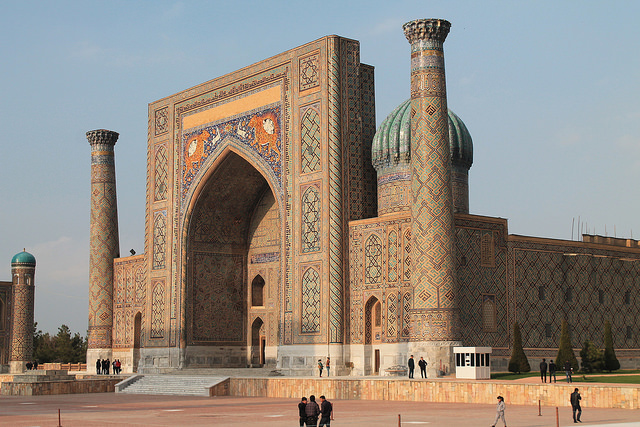 Short History
Samarkand – a city whose name invokes pictures of exoticism, mystery and wealth. Once one of the most important cities along the ancient Silk Road connecting China and the West, it is today Uzbekistan's 3rd largest city. As one of Central Asia's oldest inhabited cities, it looks back on a colorful past.
While the area was non-continuously inhabited since the early Bronze Age, the city itself was founded between the 6th and 8th century BC. Before it was conquered by the Arabs in the 8th century AD, it was  occupied twice by Greeks – once it was conquered by Alexander the Great itself.
Genghis Khan almost completely destroyed the splendid city, but Tamerlan, once of the greatest conquerors of all times made it his capital in 1369 and brought back the old splendor. Even though not known for his mercy towards his enemies, he spared the lives of craftsmen and architects and brought them to Samarkand from all across the empire. Most of the architecture, that can be admired nowadays is a legacy from that time.
But like all empires do, also Tamerlan's declined with time and Samarkand was taken by Uzbeks in 1500. It only got back some of its importance when it was conquered by Russia in 1869 and subsequently was made capital of the Uzbek Soviet Socialist Republic between 1924 and 1930.
Sightseeing
The center of the city is the Registan Ensemble – the city square surrounded by three madrasahs, the cities old educational institutions. Tilla Kari Madrasah in the middle, erected between 1641 and 1660, is the oldest one. It is flanked by Ulugbek Madrasah on the left side and Shirdor Madrasa on the right. Their facades are similar with ornaments and rich decorations, but the ones of the younger Ulugbek Madrasah (erected in 1420) are of higher quality.
You also shouldn't miss the Gur Emir Mausoleum, where Tamerlan lies buried and which served as model for the legendary Taj Mahal.
Bukhara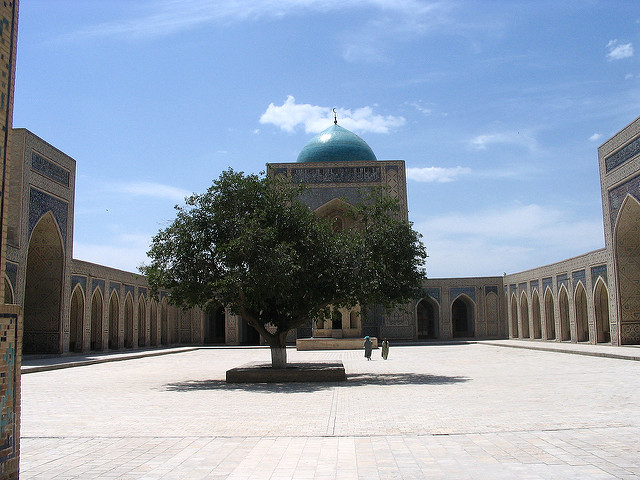 Short History:
Bukhara's old-town resembles a museum with it's about 140 architectural monuments preserved from another era, which are of core value for Central Asian history and art. Consequently it has been listed as UNESCO World Heritage site.
With first archaeological traces from the 4th and 5th century, it was once a Buddhist center along the Silk Road. It fell under Arab control in 709 and shortly after the first mosque was built next to a Buddhist temple. In 903 it was taken by the Samanid Empire and subsequently taken and burned by Gengiz Khan in 1220.
In the 16th century, under the Khanate of Bukhara, Bukhara came to its greatest meaning as a center of arts, theology, calligraphy and skilled craftsmen and poets from everywhere flocked into town.
After the Russian Civil War the Bukharan People's Soviet Republic came into existence, but had only a short lifespan of 5 years before it was integrated into the Uzbek Soviet Socialist Republic in 1925.
Sightseeing
Bukhara's main sight is the Po-I Kalan, an old Islamic religious complex, has a signature mark with a scary history. It is said, that criminals were pushed from the 47m high Kaylan Minaret, as a form of execution – hence the nickname as "Tower of Death". Right next to it you'll find the huge Kalan Mosque, with space for up to 12000 people. With its dominant blue dome it was completed in 1514.
Don't forget to pay a visit to the Ismoil Somoni Mausoleum from 905, the oldest Muslim monument in town and a masterpiece of Islamic architecture.
Shahrisabz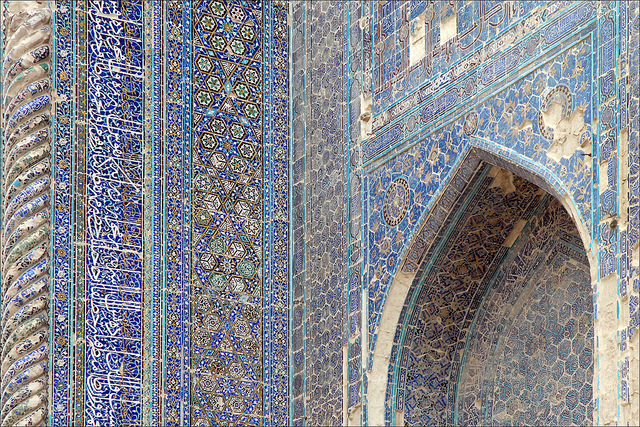 Short History
Welcome to Shahrisabz, the birthplace of Tamerlan, which was declared a UNESCO World Heritage site in 2000. In this ancient town you will hardly find anything that is not connected with this world famous conqueror in some way . Called Kesh in the middle ages, Shahrisabz only became of importance in 14th century with Tamerlan, who was born in a nearby village, as governor.
Sightseeing
Tamerlane's giant palace, Ak Saray Palace, whose construction was completed in 1396, had no equal in size and splendor. Unfortunately only the piles of the portals were able to resist the sands of time.
Tamerlan's tomb is in the Dorus Saodat Complex, where all members of the ruling family were buried was a true architectural and artistic masterpiece, which has been destroyed in the 16th century. The tomb of Tamerlan's oldest son, however, survived till today.
If you are looking for a souvenir, Sharisabz is the place for you: the town is famous all over Uzbekistan for a very special type of embroidery, which completely hides the fabric.
Khiva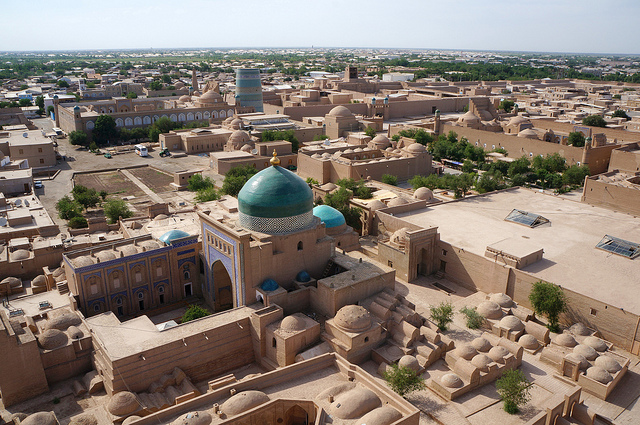 Short History
This UNESCO World Heritage Site with its 50 historic monuments and 250 old houses from the 18th and 19th century was one of the centers of Central Asian slave trade for a long time – even till 1917, when slavery was finally abolished. But with almost 100 mosques and more than 50 madrasahs it was also an important center of Islam.
According to legend it was founded 2500 years ago by Noah's son Shem. According to a more trustworthy source – archaeologists – it was founded in the 5th or 6th century. With time the city gained a certain significance along the Silk Road and became the capital of the Khanate of Khiva in the 17th century.
From 1873 Khiva, officially still quasi-independent, was under Russian control, before it became part of the Uzbek Soviet Socialist Republic in 1924.
Sightseeing
Visit Kutli Murad Inak Madrassa, a hub of wisdom and knowledge in the 18th century with cells for 81 pupils. One of the most important secular building of Central Asia from 17th century is the Khan Anush Mohammed Bath, equipped with all comforts also a modern bath is offering like floor heating. Last but not least, check out the Tash Chauli, the palace of Khiva's rulers from the first half of the 19th century. With more than 160 rooms it is truly fit for a king!
Liked this story? Are you getting that itch to travel and go on an adventure? Then join us on the next
Central Asia Rally
. Find a team of like-minded crazies and we'll see you at the starting line. If you want to join us in the virtual world then drop us a like on
Facebook
or follow us on
Twitter
to keep up with our latest antics.