One of the most favoured spots for trekkers in Central Asia is – beyond doubt – the Fann Mountains in Tajikistan. With its unique beauty and virtually untouched natural life, it's easy to see why…
Featured Photo: Allo Lake. Credit: HourWanderlust
The Fann Mountains are located halfway between Samarkand and Dushanbe, in Western Tajikistan. Playfully nicknamed "Fanns," these mountains in Tajikistan see many adventurous trekkers and climbers visit its valleys and breath-taking lakes on a yearly basis. On average, the mountains are 4000 meters high above sea level, but there are some peaks that reach the height of 5000 meters, too, like the Chimtarga (5,487 m); Chapdara (5,050 m); Zamok (5,070 m) and Bodkhona (5,138 m).
Fun Fact: The mountains are often called the Gems of Pamirs, because of all the green and blue shiny lakes, dashing green field and snowcapped mountains; from a bird's-eye-view, the Fanns look almost like a necklace.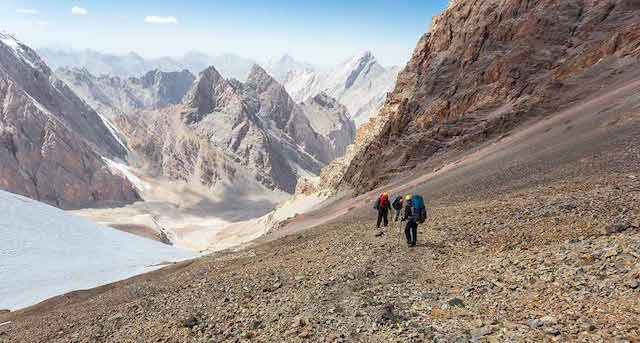 This area is rich in flora and fauna; you'll also find the most ravishing lakes in the Fann Mountains: Allo Lake, Kulikalon Lake, Alaudin Lake and Iskanderkul Lake. The fact that there are so many natural wonders in this region is an attestation to just how large of an area we are talking about.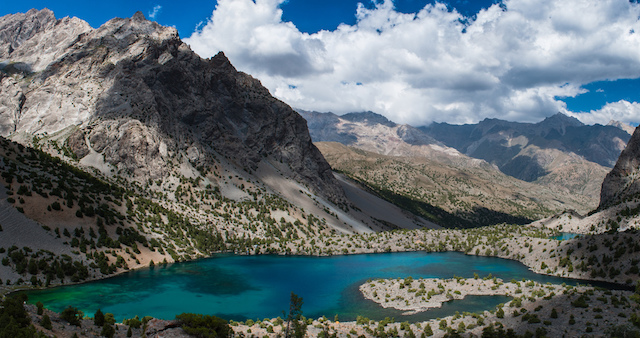 There are organized journeys for trekkers and climbers from June to October (the weather is perfect for tours then), and usually they recommend that you stay there for at least a week or two (the areas that are worth covering are gigantic, so it won't hurt to have ample time to see everything.) Although there are many trekkers visiting this area, you won't really see people packed on trails; the mountains are way too big for that. The most popular trailheads are Artush, Alaudin Camp, Iskander Kul, and Marguzor Lakes. Some passes can be traversed by packing animals (donkeys, for example,) but not all of them, so make sure you're informed on the route you want to take. It is easier of course to go with an organized tour, because you might not find packing animals en route – and even if you do, the owners might ask a steep price for renting the animal.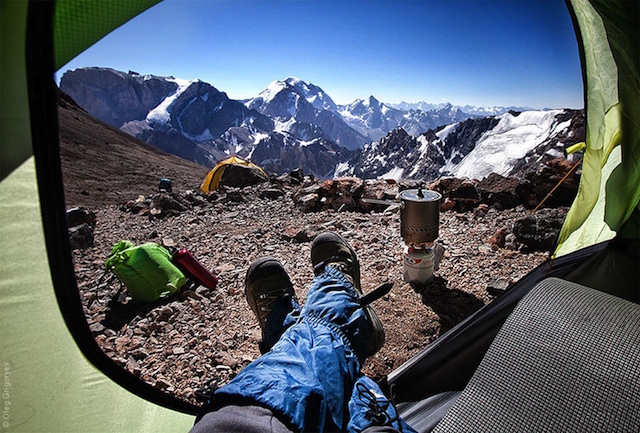 If you do decide to trek alone, be very well prepared: be sure to have maps and all the equipment necessary for a long hike – you'll soon be completely isolated from civilization. Another very important information is that you should try to keep away from the Uzbek border; there have been reports of landmines in that area. Also plan your journey to avoid winter months, as there is a constant threat of avalanches due to the massive amounts of snow on the mountains.
Respecting nature and keeping in mind the rules of trekking, you'll have a wonderful time, though; there are more than a hundred peaks that you can check out, and a vast array of animals that you might just spot, like the mountain geese, snow leopards, foxes, rabbits, marmots and even wolves and bears.
Liked this story? Are you getting that itch to travel and go on an adventure? Then join us on the next
Central Asia Rally
. Find a team of like-minded crazies and we'll see you at the starting line. If you want to join us in the virtual world then drop us a like on
Facebook
or follow us on
Twitter
to keep up with our latest antics.