Okay, almost anything. And anything in my  plus-sauce book means exactly two kinds of carb (from here on: something), so if you're not into rice either, now might be a good time to check on your organically sourced, free range, yak blood marinated leg of rainforest tarantula and let us get on with the business of turning the ho-hum into wa-hay! with a few well-calibrated shimmies of our magic woks.
Photo by jeffreyw
Green garlic sauce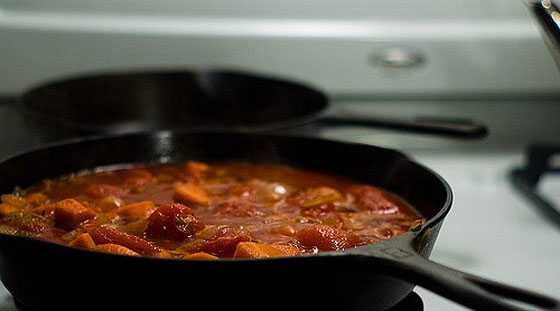 You'll need:
3 bell peppers, sliced
3 small onions (you could probably use one big one), thinly sliced
3 bunches of green garlic, chopped into 1/2-inch bits
2 thick carrots, julienned
1 tablespoon tomato paste
Oil (at least a tablespoon or two)
300 ml water
Cayenne to taste
Salt to taste
Place the vegetables and the oil into a wok and stir-fry for a few minutes.  When the veg is a bit cooked but still crispy, add the rest of the ingredients and bring to the boil.  Now simmer for a couple of minutes until the vegetables are just tender, or tender-crisp.
Add to your something and serve.
Basic vegetarian summer sauce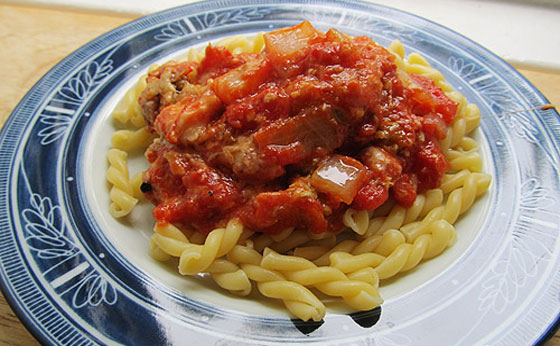 You can use all kinds of vegetables like carrots, summer squashes,  green garlic, green beans, and lots of other things. I happen to like peppers and eggplant together.  You can also use real tomatoes instead of the tomato puree.
You'll need:
Oil
Lots and lots of garlic, sliced or chopped or crushed or minced
1 large onion, sliced
1 pound julienned eggplant
1 pound sliced sweet peppers
Water
Chopped hot peppers or crushed red pepper
1/4 cup tomato paste
Salt to taste
Heat up a wok or a frying pan or a cast iron skillet, then add some oil, as much as you like.  Add the onion and the peppers and stir-fry for a minute or two, then add the garlic and eggplant and stir-fry for another minute or two, until the onions and peppers are starting to soften.  Add the tomato paste (or a couple of chopped tomatoes) and enough water to not quite cover the vegetables.  Bring to a boil and add the salt and crushed red pepper. Simmer until the vegetables are as cooked as you like them (I prefer having some crunch left in them), then adjust for spice and salt and turn off the heat and let it sit for ten minutes or so because it's better cooler.  Serve over your something.  It also happens to taste delicious the next day on top of plov.
This is especially good topped with sliced tomatoes, and vinegar.  Cucumber is good too.
Quickest sauce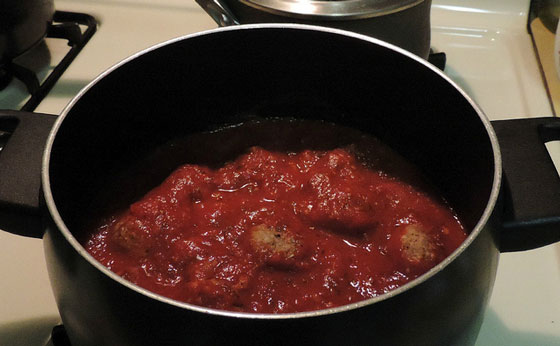 You'll need:
Lots of oil (Olive or palm are the best)
4 sweet peppers, sliced
1 large onion, sliced
4 cloves of garlic, sliced
2 T tomato paste
Crushed red pepper
Prepare and boil your something, then stir-fry it over almost high heat in a wok till crispy. Put it onto a plate. Add more oil to the wok and heat it up again, then add the onions and cook for a few minutes, then add the garlic and the peppers. Stir-fry for about five minutes, then add the tomato paste and crushed red pepper and some salt. Cook a minute or two more, then add your something and stir-fry for one more minute. Serve hot.
Napa, chinsay, and carrot sauce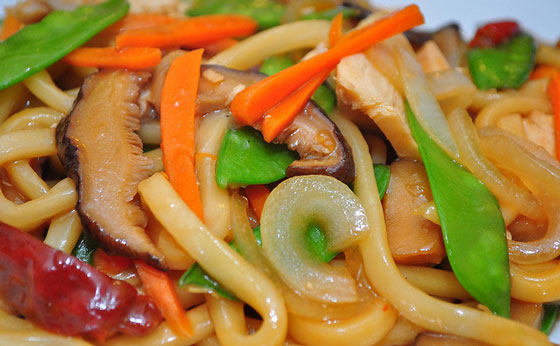 You'll need:
1 napa cabbage heart, julienned
2 large carrots, julienned
1 bunch chinsay stalks, chopped
3-5 cloves garlic, minced
2 tomatoes, chopped
Vegetable oil
Salt and red pepper to taste
Heat the oil in a wok then add the carrots, chinsay stalks, napa, and garlic and stir-fry for a few minutes. Add the tomatoes, bring to a boil, then cover and simmer for ten minutes, just until the vegetables are tender but not soggy.  Add salt and red pepper and serve over your something.  This is great with black vinegar.
So there you have it: four ways Central Asians create magic out of the mundane in the kitchen every day. Give them a go and see which you like best and/or come with us on our next Central Asia Rally to compare culinary notes. Now that would be something.