Oh, naans. Delicious, round flatbreads stuffed with perfectly seasoned and matched fillings to be had with a curry…The only kind there is, right? Well, no. Indian naans and chapattis' nearest, lesser known Central Asian cousins differ from them in several ways but one: one's taste buds, upon first contact, will be asking for their number – I mean recipe. Don't believe me? Go on, pick any one from the below, and test a friend.
Photo by David Stanley
Basic Central Asian naan template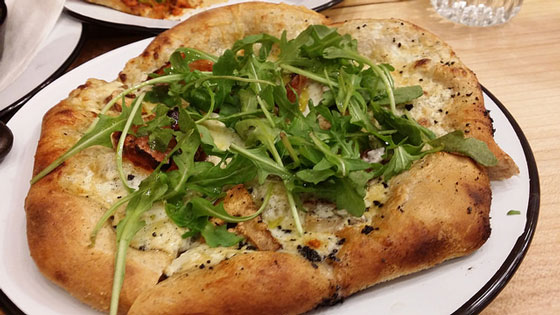 You'll need:
5-7 cups flour (any kind you like to work with)
2 tsp yeast
2.5 cups warm water
2 tsp salt
Mix the yeast and water in a large bowl, then add three cups of flour. Stir for about a minute or a hundred times in the same direction to start activating the gluten, then add the salt and as much extra flour as you need to make a nice dough. Knead for about eight minutes until it's smooth and elastic. Let it rise until doubled, an hour or two.
Place a baking stone on the lowest rack of your oven, take out the rest of the racks, and preheat the oven to 500 C. Punch the dough down and divide into four-six pieces. Working with two rounds at a time, roll the dough into 10-inch discs. Let them sit for about 10 minutes to rise.
Prick the middle of the rounds with a fork. Leave a 1.5-inch rim. If you like, you can roll the rim up to make it a bit fatter. Slap or slide the dough onto the hot stone and bake till golden, 8-10 minutes.
This is just a basic naan. There are a zillion things you can do with it to spice it up, like topping it with onions or cumin or sesame seeds or green onions or really anything else that sounds good to you. It is eaten with relish all over Central Asia.
Kattama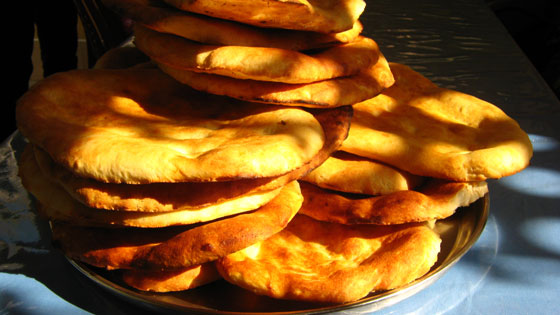 Kattama is specifically Kyrgyz bread and this recipe makes 6-7 loaves. Usually made for holidays, as it takes quite a while to prepare.
Dough
2 kg wheat flour
1 liter of milk
2 tablespoons salt
Place the flour and salt in a large bowl, and pour in milk while you stir. The result will be a smooth dough; set this aside.
Filling
500 grams of sliced onion
300 grams of butter
salt to taste
1 teaspoon of red pepper
Preheat a frying pan; add the butter and melt it. Add the sliced onion, pepper and salt. Sauté till the onion is light brown.
Divide the dough into fist-sized chunks. Roll each piece into roughly circular 1-cm-thick pieces. Spread one tablespoon of the onion filling over each one; roll the dough up into a tube, and then coil the tube up – the result should look like a cinnamon roll. Repeat this with the other pieces of dough, and let them stand for five-seven minutes. After they have stood for this time, roll them out flat again, and put each roll into a medium-hot frying pan. When the kattama has browned (three-four minutes), turn it over. Repeat with all pieces of dough.
Komoch Naan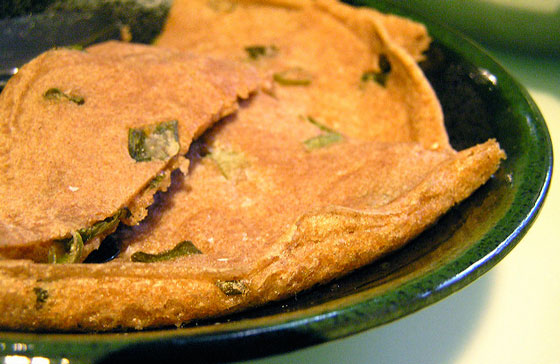 Komoch naan is a Kazakh and Kyrgyz bread. You'll rarely see it in Bishkek as tandoor naan is typical there, but if you get into rural areas of Kyrgyzstan like Kochkor or Naryn, this is much more common. It makes one domed loaf and there are several ways to bake it.This one's based on several recipes we picked up in Kyrgyzstan.
1.5 cups warm water or milk or sour milk
1/2 cup yogurt (optional, especially if you used sour milk- increase the milk by 1/4 cup if you leave out the yogurt)
1 tsp yeast
2 tsp salt
4-5 cups flour (whole wheat is best, but all-purpose or bread flour is good too, or a mix.)
Make a soft, well-kneaded dough with the ingredients and let it rise for a couple of hours until it's doubled.
Shape the dough into a ball and drop it into a cast iron skillet lined with parchment paper. Let the dough rest for a few minutes then press it out toward the edges of the skillet. Cover with a bowl or lid and let it rise for about an hour- it shouldn't quite double. Bake at 350 C for about half an hour or until it's golden brown. Keep an eye on it the first time you make it because bread and ovens vary a lot, at least in our world. Cool on a wire rack for 20 minutes before you slice it.
Borsak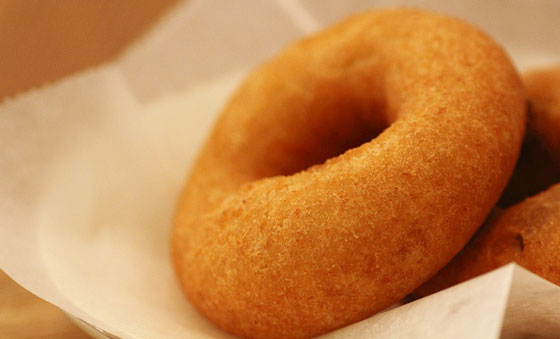 Borsak is basically a Central Asian donut, and is eaten the same way -though probably not in the same quantities as elsewhere!
2 cups of warm milk
1 tsp sugar
1 egg
1/2 tsp yeast
1 tsp salt
4-5 cups of flour
Mix the ingredients together till you have a soft dough. Add just enough flour so it's not too sticky. Next, let it sit for a few hours, then roll it out about 1/2 inch thick (adding more flour if needed), and fry. Deep frying is the best, but if you need to fry them in a smaller amount of oil on each side, do that.
Let us know how you liked it. If it goes down well, and you'd like a chance to savour more where this came from, you're very welcome to join some of us on or next Central Asia Rally.