June is the time of year when the crazy people come out to play, and by crazy we mean the guys who are currently racing through Central Asia on this year's rally.
It's been an adventure so far; we've had teams stranded in Samarkand, while others have to deal with a blockade of yurts in Kyrgyzstan, but more on that later.
If you haven't been following our Facebook page for updates, here's a low down on what the Central Asia Rally is all about. Who has been taking part and where are we going, tentatively!
What is this all about then?
To sum up the Central Asia Rally, it's basically two weeks of mayhem across the Stans.
This year, we kicked off the festivities with a big party in Astrakhan in Russia on 5 June, before our teams set off in their vehicle of choice on the proposed route over to Kazakhstan and the Aral Sea desert in Uzbekistan, before stopping off in the Silk Road cities of Bukhara and Samarkand.
After the Pamir Highway in Tajikistan, the route ends in Kyrgyzstan on the 18 June (hopefully!) in the capital of Bishkek, but we all know that in any adventure, the best plans sometimes get lost on the way – but that's isn't that what it is all about?
And, the Central Asia Rally is an adventure. Between Astrakhan and Bishkek there are 6500km (4000 miles), and a lot can happen then, and this year has been no different.
Just today we've had to deal with a series of unexpected issues in Osh in Kyrgyzstan, and had to get our team out of trouble, stay tuned for a complete update!
Who is crazy enough to take part?
This year the group of teams are lead by our own veteran road warrior and Travel Scientist, Attila Berenyi, who is a pro when it comes to all of this. He's ridden a Hungarian bendy bus over to Mali and has participated in his own share of crazy races in Central Asia, the Caucasus, India and more. Attila is leading a crazy band of Hungarians, just like his historical namesake, in a Toyota Carina Hatchback (OK, the original Attila didn't ride a car, but semantics!), with Tamas and Daniel in tow.
Our teams this year come from all across the globe. The Belgian Red Devils, Audi riding Dirk and Stijn, come from, as you may have guessed it, Belgium. We also have our mature retirees from the UK, Tony and Beryl making up the Llanfair Railway team, (although riding a Toyota Rav, not a train, the name is a bit deceptive there).
Riding in a Suzuki Samurai are our Slavic ladies Krystyna and Joanna Jurga collectively make up the Polish Girls Team.
Team Sisu, Tuomas, Inka and Maria, represent Finland in a vintage 1988 Volvo, and Patrick and Jack in Rough Edges have come all the way from Canada to take part.
Brits in team Utter Fiastco, Imogen and Emma, are driving a suitably Soviet grey Fiat, or we should say drove, since their car broke down somewhere up the Pamir Mountains, will talk more about their own extreme adventure in the near future!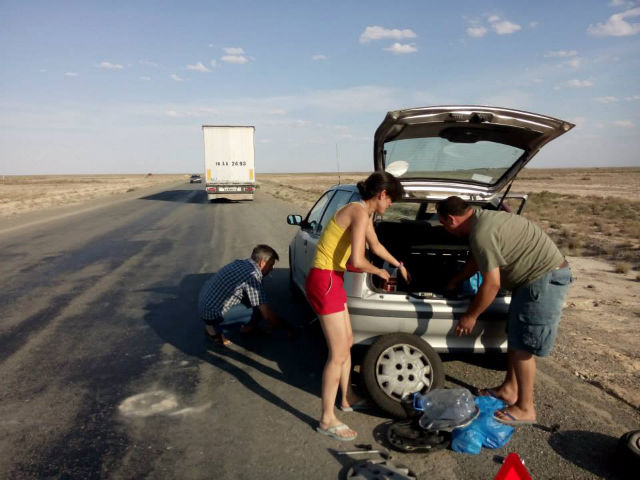 Pic thanks to Utter Fiatsco!
The lowdown so far
As you can see, the peeps on the Central Asia Rally are an international bunch, so just to add some extra spice to the adventure, instead of starting off in Budapest like we normally do, we decided to meet up in Astrakhan and set of from their together.
People from Finland, Poland and the UK are not necessarily going to find going to Budapest the quickest route, so better to have a place near the starting line where everyone can drive off together, party on down Russian style and get a nice warm up for the adventure of a lifetime.
It's been a challenge so far – but stay tuned to hear more about the antics on the Central Asia Rally!