You're going to cross quite a number of countries during your adventure through Kazakhstan, Kyrgyzstan, Uzbekistan, Turkmenistan and Tajikistan; there are many types of currencies and denominations to keep in mind. To bring you up to speed on the currencies of Central Asia, here is a crash course on general exchange rates, banknotes and coins that you should keep in mind during your travels.
Photo: Turkmenistan Banknotes. Credit: DelCampe
Kazakhstan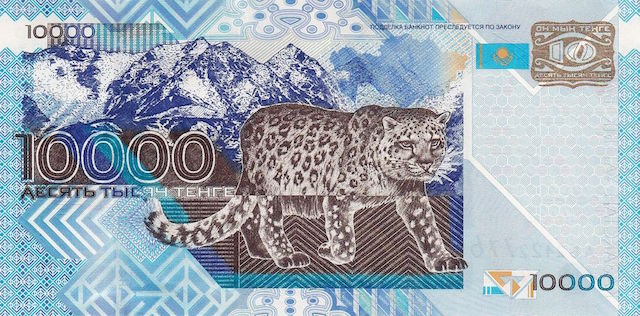 The largest and most well-developed country is Central Asia, Kazakhstan has huge coal, oil, gas and metal reserves. Their currency is the Kazakhstani Tenge; its abbreviation is KZT. One USD equals around 343 Tenge, and they have quite a lot of banknotes:  1, 3, 5, 10, 20, 50, 100, 200, 500, 1000, 2000,5000, 10000. Their coins are called Tiin, of which you can find coins of 1, 2, 5, 10, 20, 50, 100.
Kyrgyzstan

Kyrgyztan's currency is the Som (abbreviation: KGS, symbol: лв.) One USD equals approximately 69 Som, and they have banknotes of 1, 10, 20, 50, 100, 200, 500, 1000, 500. You'll find that they don't really tend to use the 1, 10 and 50 banknotes, because they are quite rare. One som is divided into Tyiyns, of which they have coins of 1, 10 and 50. You'll also find coins of 1, 3, 5 and 10 Som coins.
Uzbekistan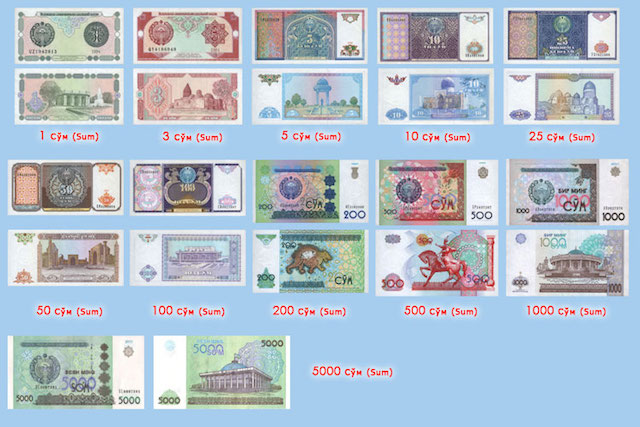 Also called Som, Uzbekistan's currency is abbreviated UZS, and the symbol is the same as Kyrgyztan's Som: лв. One USD is around 2871 UZS. The banknotes you'll use here are лв1, лв3, лв5, лв10, лв25, лв50, лв100, лв200, лв500 and лв1000. One UZS is divided into a hundred Tiyin. The coins in circulation are лв1, лв5, лв10, лв25, лв50 and лв100.

Turkmenistan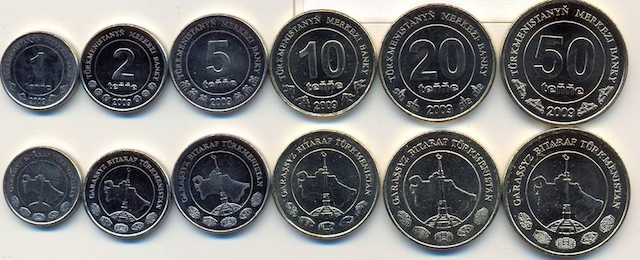 Turkmenistan's currency is called the Manat, or TMT. The Manat was introduced in 1993 to replace Russian rubles used during the reign of the Soviet Union. One USD equals 3.5 TMT and one Manat is divided into a hundred Tenge. There are 1, 5, 10, 20 and 50 tenge coins, minted by the Royal Mint of Turkmenistan. The banknotes that circulate today (called new Manat) were introduced in 2009, and there are denominations of 1, 5, 10, 20, 50, 100, and 500.
Tajikistan

The Tajikistan national currency's name is the Somoni and its currency code is TJS. One USD is around 7.8 TJS and one TJS is subdivided into one hundred diram. Tajikistan's currency is named after the Tajik nation's father, Ismail Samani. The current currency was introduced in 2000 to replace the Tajikistani ruble. You'll find diram coins of 5, 10, 20, 25 and 50. There are also 3 types of Somoni coins: 1, 3 and 5. The Somoni banknotes include: 1, 3, 5, 10, 20, 50, 100, 200 and 500 denominations.
Liked this story? Are you getting that itch to travel and go on an adventure? Then join us on the next
Central Asia Rally
. Find a team of like-minded crazies and we'll see you at the starting line. If you want to join us in the virtual world then drop us a like on
Facebook
or follow us on
Twitter
to keep up with our latest antics.