The traditional lifestyle of the Kyrgyz people is nomadic, which has strongly influenced its cuisine. You will be served dishes heavy on meat dripping with fat, especially mutton, beef and horse, as well as on dairy products. The high fat content of most dishes might be unfamiliar for the average western stomach, but that shouldn't stop you from giving all these delicacies a fair chance. Our small guide on what to eat in Kyrgyzstan will help you make the right choices, so you can continue your adventure in Central Asia with a well filled belly!
Photo by Malcolm Manners
Beshbarmak – the Kyrgyz National Dish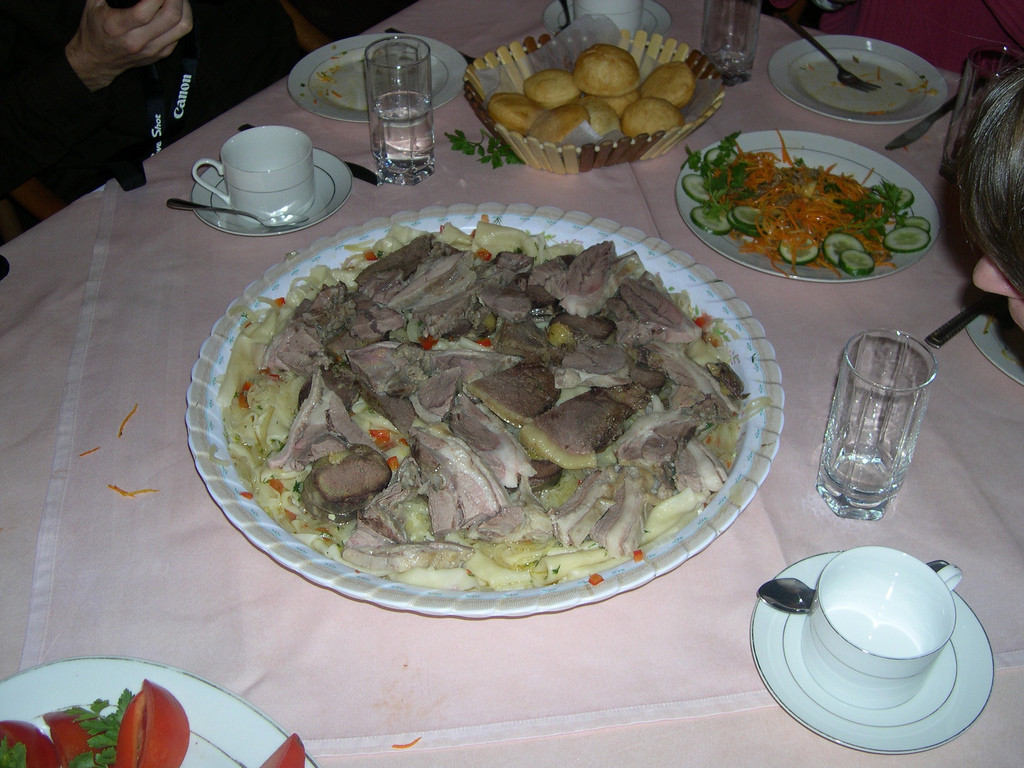 This dish is mainly prepared for celebrations in families which are still living the traditional lifestyle in yurts. Horse meat, occasionally also mutton or beef is boiled for hours in a huge pot, to be served with noodles and some spices. In case sheep is the meat of choice, usually the head is boiled with the rest of it. The most important guest becomes the honor of cutting it into pieces and distributing them among the others according to their status.
This dish is traditionally eaten by hand – reflected in its name, which means "five fingers"
Shashlik – the International All-Time Classic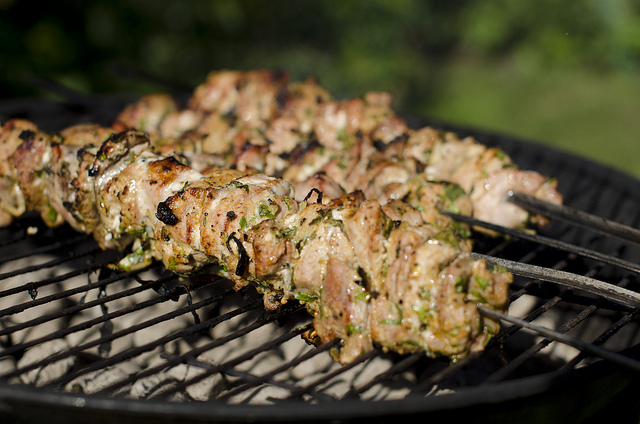 Surely you are no stranger to shashlik, since the big, skewered chunks of meat  are well loved all over the world. Grilled over coals after having been marinated, the Kyrgyz version boasts with a fat to meat ratio of one-to-one. So better forget your diet and enjoy!
Bread – Symbol of Hospitality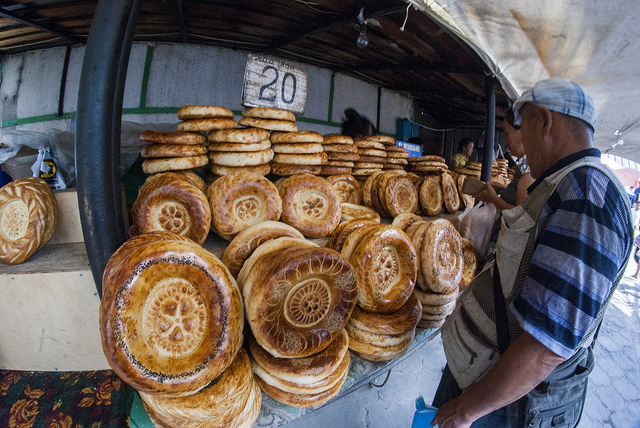 Bread has a special role in Kyrgyz culture. It is regarded as sacred and as a symbol of hospitality. So if you visit the home of a Kyrgyz family, you certainly will be offered a piece, even if you stay for just a few minutes.
Sanctity usually comes with a few rules, so here is what you should know about the handling of bread in Kyrgyzstan: refusing bread is not an option, since it stands for the host's hospitality. Never cut the bread, just break of a small piece and hand it on to your neighbour, if you have one. Never put it on the floor. If you don't have a table (which is the traditional way of eating in Kyrgyzstan), put it only on the piece of cloth, which replaces the table. And last but not least, never put it somewhere upside down. Often the upper side is covered with complicated patterns, so it's not easy to confuse.
The are many different kinds of bread, the most common one being the flat, round naan. Or try kalama, a flat unleavened bread. And don't forget about lepyoshka straight out of the clay oven!
Paloo- a Rice Classic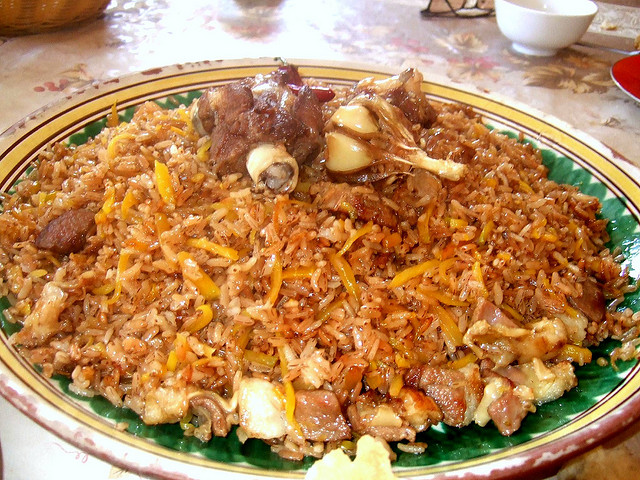 This Kyrgyz version of plov or pilaf consists out of rice mixed with mutton or beef, carrots, onions and garlic chives. Whole garlic chives and hot peppers give the right finish. After beshbarmak, this is the second most common dish to be served to honored guests.
Samsy- Wrapped Deliciousness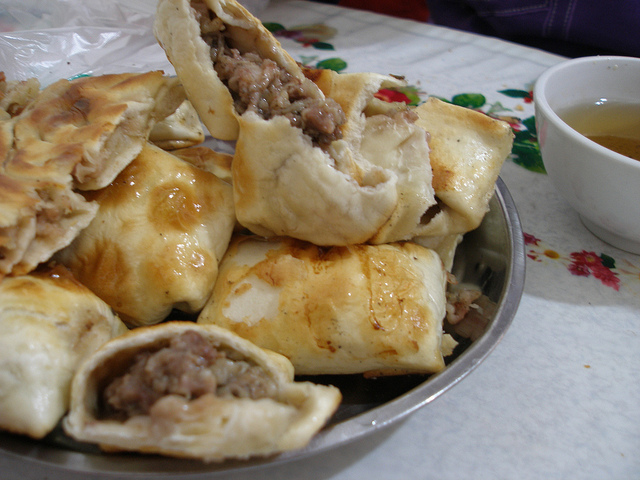 You can get these delicious pockets filled with meat or sometimes also with vegetables almost everywhere. Fat, of course, cannot be missing and is also an important ingredient of the filling. Buy a couple of samsys on the street side as a small snack in between, or get some more and make a full, rewarding meal out of it.
Laghman – Better Than Chinese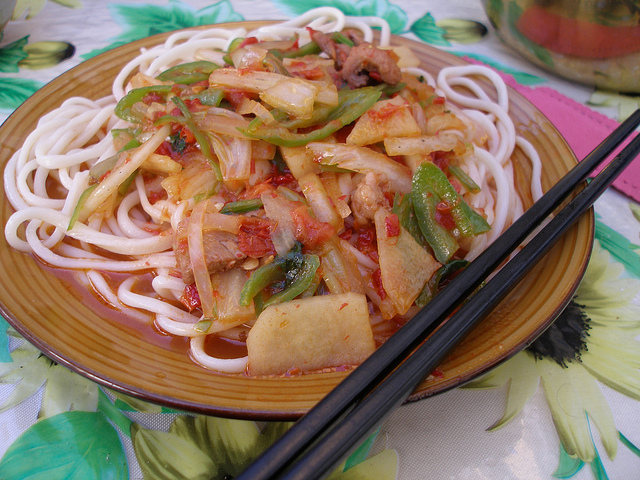 This dish is similar to a dish you are served by the Uyghur people in the neighboring giant China, but of course the Kyrgyz variation is much better! It consists of special hand-made noodles, which are covered with a tasty soup full of meat, vegetables and herbs. Don't forget to bring a napkin to cover yourself up, since the long noodles tend to spread the sauce in all possible directions.
Drinks – Fermentation and Tea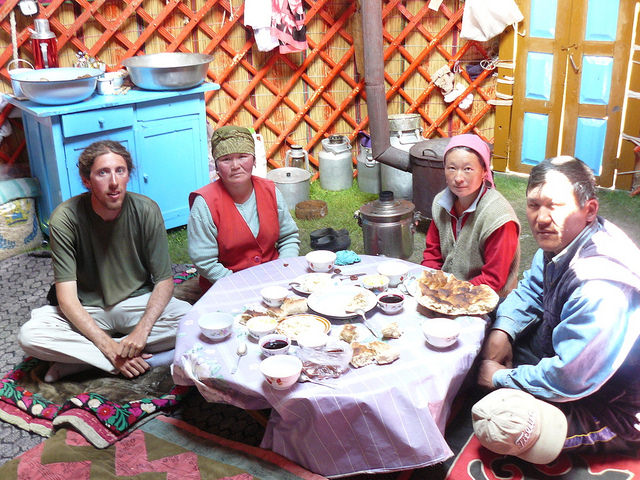 After so much food, you'll certainly be quite thirsty. Try maksym, made out of fermented grains, which are first grounded, and then boiled in water. Another option is kumys, which is fermented mare's milk and that can be had in an alcoholic and a non-alcoholic version. Before the drink is served, it is mixed with roasted grass. Jarma consists out of dry wheat and water with salt, but can also be spiced up with sweeteners, tea, barberry and many others.
If this sounds a little too adventurous for your taste buds, worry not. Chai (tea) is the preferred drink of most locals, which is served frequently and rather strong.
Liked this story? Are you getting that itch to travel and go on an adventure? Then join us on the next
Central Asia Rally
. Find a team of like-minded crazies and we'll see you at the starting line. If you want to join us in the virtual world then drop us a like on
Facebook
or follow us on
Twitter
to keep up with our latest antics.