With a legacy such as the Silk Road, it goes without saying that Central Asia is famed for its markets. It's inevitable that there will be some romantic notion accompanying a bazaar in Samarkand and other iconic Silk Road cities, but which are Central Asia's best markets?
Here are the best markets in Central Asia.
Photo by Thomas Depenbusch
Osh Bazaar, Bishkek – Kyrgyzstan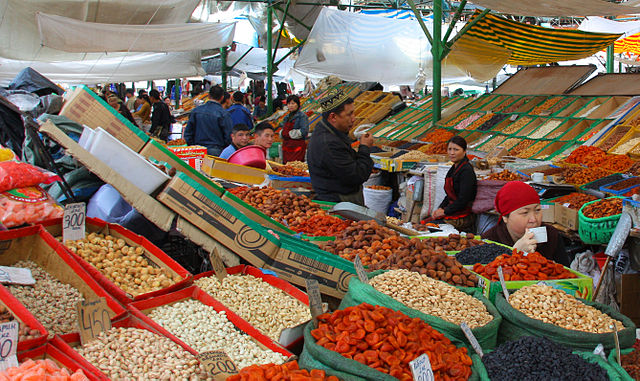 Located at the heart of Bishkek, Osh Bazaar is the place to come when you're looking for absolutely anything. This overcrowded, loud and overwhelming market has one major draw – in that it's absurdly cheap to buy things here. Osh Bazaar attracts people from all corners of Kyrgyzstan, whether to buy or sell a mixture of new and used goods. This labyrinth is worth it for the local color and the fact you can find anything under the sun here.
Dordoy Bazaar, Bishkek – Kyrgyzstan
With its reputation as being one of Asia's greatest market places, Dordoy Bazaar in Kyrgyzstan merits a visit by those visiting the Kyrgyz capital. It's not only just that the Dordoy Bazaar is a huge trading hub, but it's also the main trading post in the region for good coming from China, where they move onto markets and shops in Kazakhstan, Russia and Uzbekistan. This market stretches for over a kilometer, and actually began life as an agglomeration of several independent markets that were located next to each other.
Green Bazaar, Almaty – Kazakhstan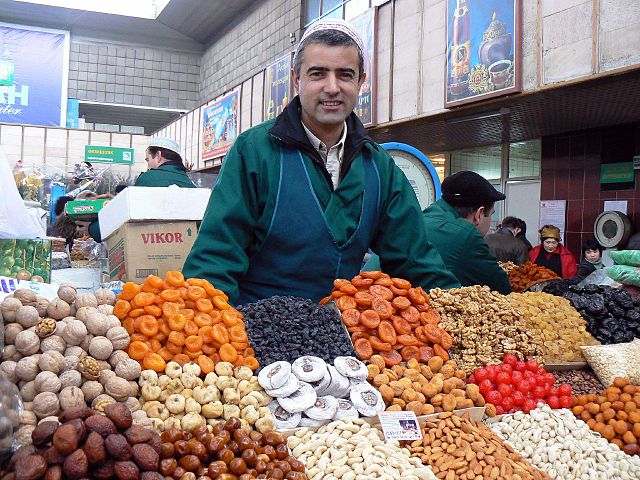 A central part to daily life in Almaty, the Green Bazaar is the largest farmers market in Almaty. It's name, which in Kazakh is Zelionyj Bazaar, comes from the sale of vegetables and fruit at the time. Today, it's Almaty's largest market and where you can find a wide range of goods that go beyond simple fruit and veg, encompassing meat, most notably horse meat, local dairy and Kazakh specials.
Chorsu Bazaar, Tashkent – Uzbekistan
One of Uzbekistan's most famous markets, and certainly Tashkent's main trading hub, the Chorsu Bazaar is easy to spot thanks to its giant green dome. You can experience the city's life here as the market spills out into the streets with vendors selling anything edible from the region. Whether you want huge sacks of grain or freshly killed livestock through to pomegranates, persimmons and fresh bread, this is the place to shop. Also, for those looking for authentic Uzbek souvenirs, you can also find traditional handicrafts here.
Toki-Zargaron Bazaar, Bukhara – Uzbekistan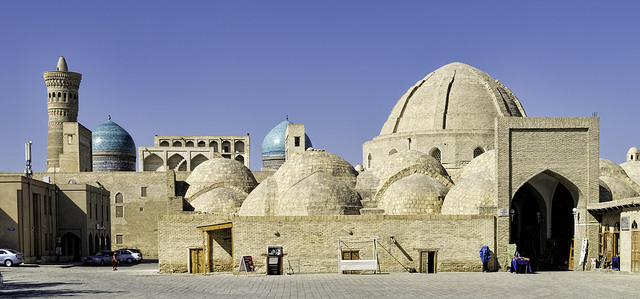 With Bukhara being on of the original Silk Road cities, it goes without saying that trade here is bound to be interesting. Bukhara's trading pedigree can be seen in its 16th century trading domes that house the Toki Zargaron market. It's not the only covered bazaar in Bukhara, and while it was once a trading center, today it houses a modest bazaar, but the beauty of its surroundings are what make it so attractive.
Panjshanbe Bazaar, Khujand – Tajikistan
In the lush Fergana Valley, Khujand is a city that has a solid history of being on the Silk Road, so naturally its bazaar will be a talking point for visiting this city. The Panjshanbe Market is set in a modern building dating back to 1950s, but this covered market still embraces the trading heritage of the city, being opposite to the mosque and mausoleum to Sheikh Muslihiddin. This modern market hall offers a variety of good from food to household goods. This colorful market may be modern, but its definitely a spectacular feast for the senses.
Ishkashim Border Market – Afghanistan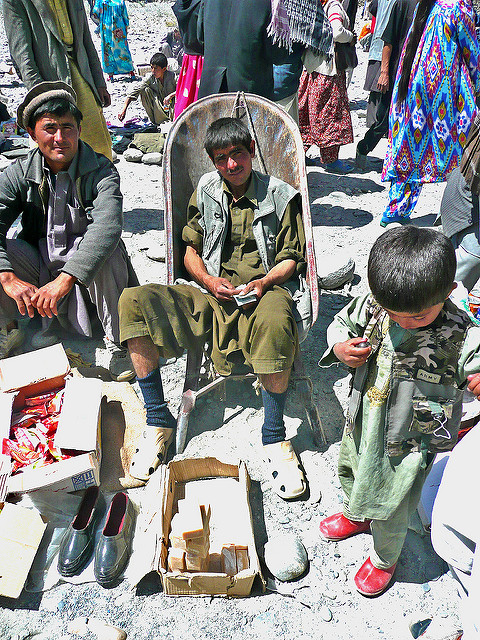 Lying just across the border from Tajikistan in Afghanistan, Ishkashim Border Market feels like stepping back into another time. Set in the Wakhan corridor, this market is the biggest in the region and full of local color and character. You can buy excellent souvenirs here, but there are also food stands and a teahouse. One to visit for the experience itself, even if it may not be as fancy as the other markets.