Whether you've already been, or are still planning to go on a Central Asia Rally and savor the delish dishes of the region, making one of their signature national meals yourself is going to make you proud as heck, and serve as a hearty reminder of good times past or soon to come. Today's challenge: Uzbek Lamb and Green Pea Plov.
Photo by Ramon
What is Plov?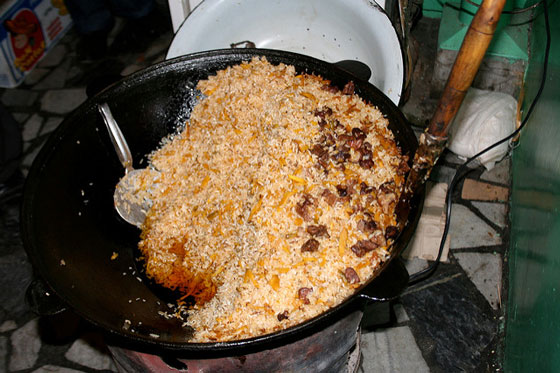 Plov, a relative of pilaf, is a dish in which rice is cooked in broth. The traditional version from Uzbekistan is distinct in several ways:
The basic ingredients are lamb cuts, rendered lamb fat, onions, carrots, garlic, spices and hot pepper. Depending on the season and region, each variation on the recipe adds other ingredients like quince, barberries, eggs, and chickpeas.
The rice isn't steamed but cooked in a stew, which is composed of the other ingredients, which makes the dish a complete meal. The meal is prepared in a kazan, a big cooking pot more or less similar to a wok.
While there are things to be said for following traditional recipes to the letter, we advocate doing a few things differently, taking advantage of options that make things just a pinch easier, and sometimes even deliver better outcomes.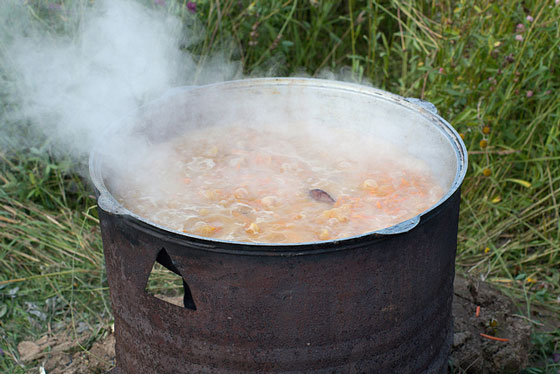 Cooking lamb sous-vide, for example, gives results far superior to anything you could achieve in a wok alone, and all the meat juices can eventually be added into the dish. Also, instead of the Uzbek rice varieties, you can use paella rice, which absorbs significantly more liquid. When you add liquid to the rice, you may prefer lamb stock to plain water. And finally, you might want to add green peas for their bright color and delicious flavor (if you blanch them separately, you'll preserve their color).
This is meant to be a greasy dish. But if you want to reduce the greasiness, you can replace the lamb breast with lamb shoulder, and cut down on the proportion of rendered lamb fat.
Braised lamb (for four people)
You'll need:
2 1/4 lb lamb breast
ground black pepper
One sprig rosemary (3-4″ long) , roughly chopped
salt
Season both sides of the lamb breast with salt. Then, with a blowtorch, char the meat on both sides until soft and brown (or sear in a pan). Season with black pepper and place into the sous-vide pouches together with the rosemary. Simmer in a water bath at 151 F for 24 hours.
When your lamb is done, line up your…
…other ingredients for your Uzbek lamb and green pea plov:
8 large garlic cloves, peeled
4 oz bomba rice
4 oz green peas
1 1/2 oz rendered lamb fat
1 cup extra virgin olive oil
the braised lamb
salt
1/2 tsp ground cumin
4 oz onion, thinly sliced
1/2 tsp ground star anise
4 oz carrot, julienned
8 oz lamb stock (or water)
Rinse the rice under running water, then put into a bowl and cover with hot water. Set to one side.
Place the olive oil and garlic in a small saucepan, then cover and cook over very low heat for about half an hour, until completely tender. Drain the garlic and set to one side. The olive oil can be stored in the fridge for up to a week to be used in other recipes.
Now blanch the green peas in salted boiling water until soft, then plunge in ice water – this will stop the cooking process – , drain and set aside.
Warm up the lamb breast sous-vide in the water bath. Strain the liquid and set aside. Bone the lamb, discard the rosemary and reserve the meat.
Heat a wok. Season the lamb meat with salt, sauté in the wok skin side down for a minute, then flip and sauté for half a minute. Set the meat aside.
Melt half of the lamb fat in the wok, then add the onions, season with salt and cook over high heat until brown. Add the ground star anise and cumin. Also add the rest of the fat and the carrots, and cook until soft and golden brown, while you stir regularly.
Spoon in the rice, pour in the lamb stock and add some more salt without stirring. Cook over a high heat until the liquid is fully absorbed. Now add the liquid from the lamb sous-vide, turn the heat down to medium and simmer till the liquid is almost completely gone. Finally, mix in the green peas, turn off the heat, cover, and let stand for about 15-20 minutes.
Arrange the meat and garlic on top of the dish, leave rest covered for another minute, and serve.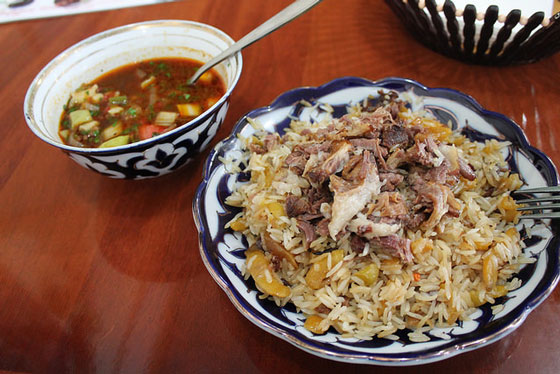 Let us know how you liked it! And if you think you could get used to more of where this came from, come join us on our next Central Asia Rally.