Plov is central to Central Asian cuisine.
Photo by I. Ibrahimjon
Let's be honest, food probably isn't the reason you visit Central Asia. Participants on the Central Asia Rally are more likely to be excited about visiting Silk Road cities or driving the Pamir Highway. However, if there's one meal that you can be sure to enjoy on your trip, it's plov. Popular all over Central Asia (and beyond) this rice based dish has been feeding locals for centuries, and is at the heart of any Central Asian feast.

Plov… or Pilaf?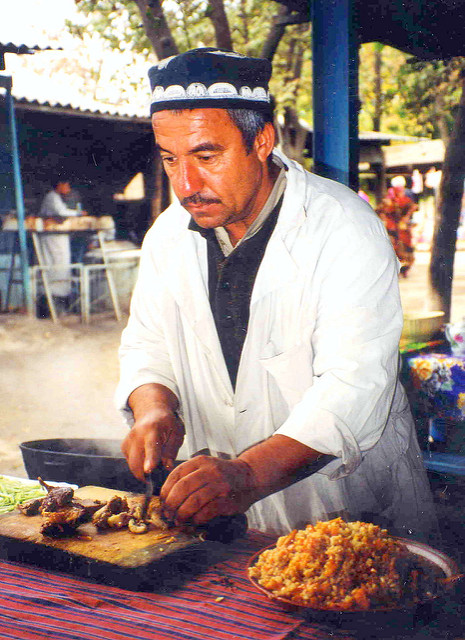 If plov sounds familiar, that's no surprising. It is a relative of pilaf, though it's cooked slightly differently. While pilaf rice is steamed, when making plov, rice simmers in a stew of various ingredients. Also known as osh, plov is the national dish of Uzbekistan and Tajikistan, but its popularity extends right across Central Asia. There is no typical plov, but expect a stew of onion, garlic, and carrot, plus a meat, often lamb. Sweet variations often include raisins and dried apricot.
Making Plov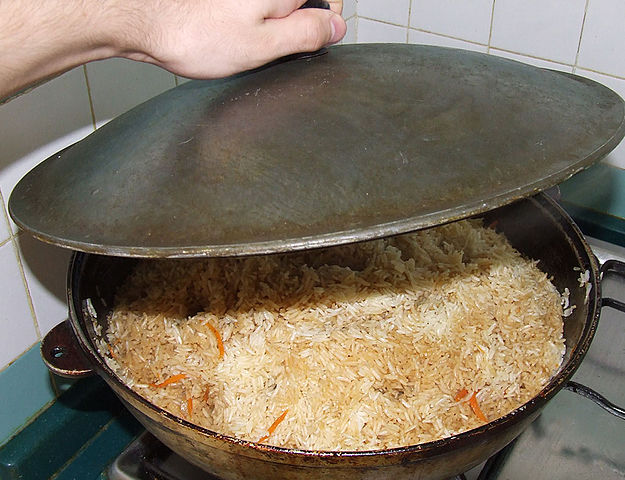 To make plov, you'll need a big pot; if you want to be authentic, you'll need a kazan, the traditional cauldron-shaped Central Asian pot. In addition to the onion, garlic, and pepper, you'll need traditional spices, which vary depending on region, but usually include cumin, coriander, and often red pepper.  When it comes to meat, lamb is most common but you can sometimes find chicken being used or — it is Central Asia, after all — horse meat. Everything is cooked together, until the rice soaks up all the liquid, becoming full of flavour and a touch on the greasy side.
Plov in Central Asian Culture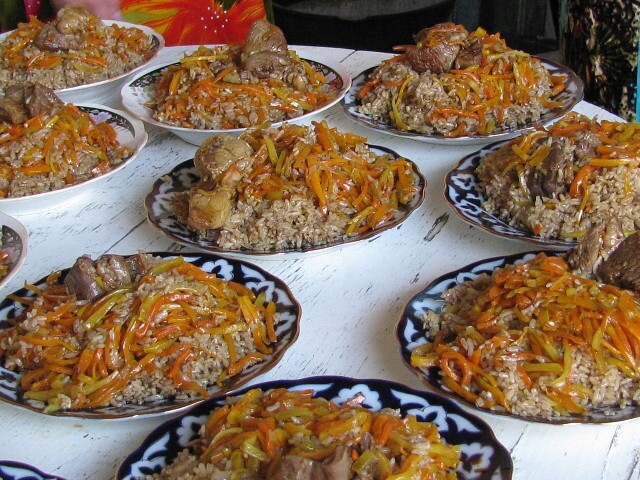 Plov can be an everyday sort of meal, but it is also popular for special occasions. For weddings, the meal can be made on mass, by a head chef known as an oshpaz. Cooked over an open fire, one batch might feed hundreds of guests. It's unlikely you'll experience plov on this scale on the Central Asia Rally… though it's not impossible, and we'll understand if you take a detour if you somehow blag an invite to such an event! However, you'll certainly have plenty chances to try plov in some form, particularly in Uzbekistan, where the dish is an national obsession!

Liked this story? Are you getting that itch to travel and go on an adventure? Then join us on the next
Central Asia Rally
. Find a team of like-minded crazies and we'll see you at the starting line. If you want to join us in the virtual world then drop us a like on
Facebook
or follow us on
Twitter
and
Instagram
to keep up with our latest antics.